Xero is the world's leading online accounting software.
It keeps you connected with your finances,
and it's simple and easy to use from anywhere, at any time.


View accurate up-to-date figures anytime

Connect Xero to your bank account and get your bank transactions imported, coded and reconciled at the click of a button. You can be confident the figures you see are up-to-date and the numbers add up.


Work anywhere

If you don't want to be in the office, then with Xero you don't need to be. Get access to your accounts from any device with an internet connection – from the storeroom, the living room, or the restaurant down the road.


Connect with your team

Xero can share your accounts with your team, your accountant, bookkeeper or banker. It's all run on a single online ledger, so everyone can work together with the same information in real-time.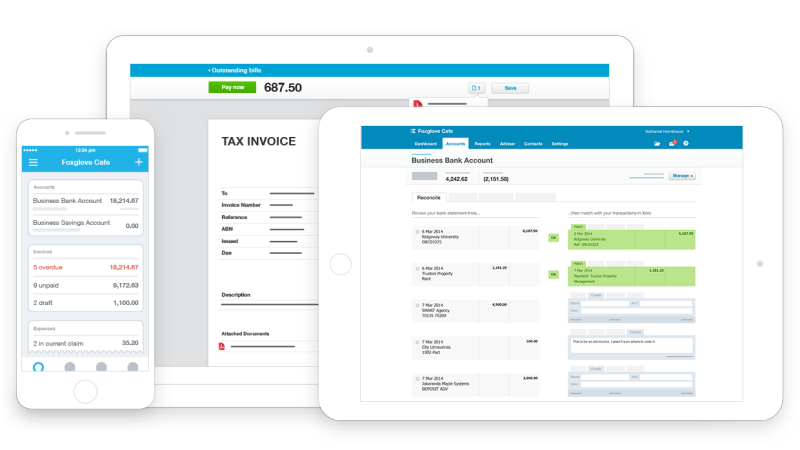 Popular features that will change your life
Accounting software with all the time-saving tools you need to grow your business.
Xero is always secure and reliable and our experts are here to support you 24/7.


  Fast bank reconciliation

Your latest banking, credit card and PayPal transactions are imported and categorised.


  Go mobile

The Xero mobile app works with iPhone, iPad, and Android phones and tablets.


  Cashflow

Get a real-time view of your business financials with our convenient dashboard.


  Inventory

Inventory items speed up invoicing while tracking sales and purchases.


  Payroll

Update your payroll data into your general ledger quickly and automatically.


  Pay bills

Manage your cashflow by scheduling payments and batch paying suppliers.


  We have pricing plans to suit all kinds of budgets. Talk to us today.