Cloud Systems Explained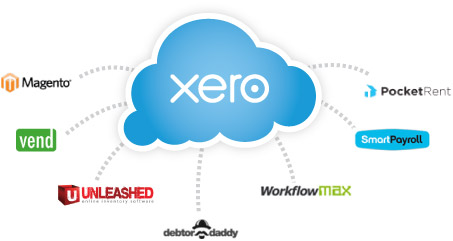 Move to the cloud – No Hardware, just real-time information
Cloud computing is where business is headed – but some of us are leading the way and enjoying the benefits now. The 'cloud' refers to the Internet. Instead of buying software and installing it directly on your computer, cloud software is simply accessed online. Instead of starting up a programme loaded on your desktop computer, you access it using your web browser. Business owners can access a whole range of professional bookkeeping, payroll, timetracking and other software that lives 'in the cloud'. Just login securely from any computer with internet access, and away you go.
Cloud computing has a number of fantastic benefits, especially when budgets are tight:
No large upfront costs to buy software or hardware
(Expensive and complicated backup systems and servers? who needs them!)
Future-proof – no more software upgrades to buy
Access your accounts and run your business anywhere,
See exactly where you're making money and where you could be losing money
– before it's too late
Your accountant (that's us!)
can log into your accounts throughout the year to make sure you're on track
Add-ons:

Full Business Solutions
Do you need help to evolve using the latest technology and solutions?
With our own in-house IT/Cloud specialists, we are all about providing you the best complete solution that works and evolve your business with you every step of the way. Running a business smoothly requires having your accounts sorted, but some clients need more than core accounting to get the complete financial picture. Some need to manage their inventory, their jobs, their online store. We have joined up with other great software solutions that connect with Xero – so we can provide the full business solution to you.


The one system we recommend everyone should use. This industry-leading and fully featured accounting program also happens to be amazingly easy (and, dare we say it, fun) to use. Fear your finances no more!
Read More

Direct overnight bank feeds make reconciliation as easy as checking your email
Create invoices at the touch of a button (and directly email them to slash your postage costs)
Track income and outgoings with ease – know what's coming in and going out at any moment
Deal with expense claims with ease
Automatically generate a fixed asset register and manage depreciation
Automatic foreign currency conversion for businesses with overseas sales
Xero integrates with PayPal; accept credit card payments and reconcile PayPal transactions
Avoid trouble before it happens – grant your accountant access to your data so they can see exactly where you're at and (where you're headed) all year round, and head off any nasty surprises that might be lurking around the corner

WorkflowMax
Excellent time tracking, job management and quoting – you'll never miss a chargeable hour again.

Read More

Email quotes and assign jobs to staff at the touch of a button
Set step-by-step milestones within jobs so staff know exactly what's required
Keep tabs on how jobs are progressing against budget
Capture all of those 5-minute "can you just…" jobs – and bill for them
Manage purchase orders and a supplier database
Measure staff and job performance with detailed reporting
Integrates with seamlessly with Xero and SmartPayroll

Smart Payroll
Designed specifically for small-to-medium business, paying wages has never been easier. Pay all your staff with one mouse click from just 99c per employee, per pay.

Read More

Wages calculated and paid automatically from your bank account
KiwiSaver calculations and deductions done automatically
Prints all necessary payslips and reports
IRD returns filed and paid automatically – no more filling in returns or late payment charges
Handles annual leave and all other leave types, plus public and statutory holidays
Updated regularly with any changes to New Zealand payroll regulations or tax codes – no more non-compliance worries
Safe and secure, with automatic backups
Integrates seamlessly with Xero

Vend
A retail point-of-sale and stock management software you'll actually love to use.

Read More

Modern, easy-to-use interface
Mouse and keyboard or touch-based input, the choice is yours
Works with any computer. It also integrates with everything else you already own: barcode scanner, cash drawer, receipt printer…even your iPad
Works even when your internet connection doesn't, so you'll never lose a sale (your data automatically syncs the next time you connect)
Supports price breaks, discounts, sale campaigns, location or customer-specific pricing, barcodes and multiple tax rates
Automatically re-orders when stock runs low (with optional multi-location stock control)
Scales with the size of your business
Seamlessly integrates with Xero

Unleashed Online Inventory Software
Powerful online inventory control software – Fully Integrated

Read More

Track your inventory movements
Powerful inventory management dashboard
Stock alerts and re-order reports
Negative stock functionality
Multi Location Stock
Show historical balances for all items
Show stock trends and sales units enquiries
Purchase inventory in multiple currencies
Sell stock in any currency
Optimise stock levels
Powerful G/L account override
Tax overrides and multiple tax amounts
Decrease your working capital
Improve productivity and cash flows
Run your business in the cloud
Integrates with Xero accounting software